The Catalan Ombudsman holds an institutional meeting with the Ombudsman of Slovenia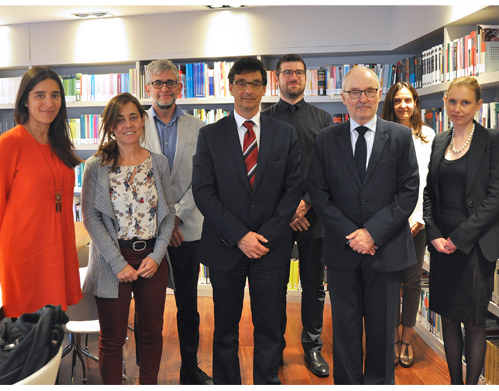 It was the first institutional visit on an international scope since Peter Svetina was appointed Ombudsman three months ago


The human rights Ombudsman of the Republic of Slovenia, Peter Svetina, met on Tuesday, May 14, with members of the institution of the Catalan Ombudsman, in the framework of an institutional visit.

Together with his Deputy and Chief of Cabinet, Svetina has held several meetings with the Catalan Ombudsman, Rafael Ribó; the Deputy General, Jaume Saura; the deputy for the defence of children's rights, M. Jesús Larios, and other members of the team.

The purpose of the visit was to make an institutional exchange, knowing the functioning of the two Ombudsman offices and their competencies in accordance with the current legal system.
The meetings have also highlighted the main current challenges facing both institutions, taking into account the particular context and political and social scene in Europe.
The tasks and achievements of the Catalan Mechanism for the Prevention of Torture and the Children's Area have been addressed, especially with regard to the activity carried out by the European Network of Ombudsmen for Children (ENOC ), as well as the other actions carried out by the Catalan Ombudsman in the international framework.

It was the first international visit on an international scope since Peter Svetina was appointed Ombudsman three months ago